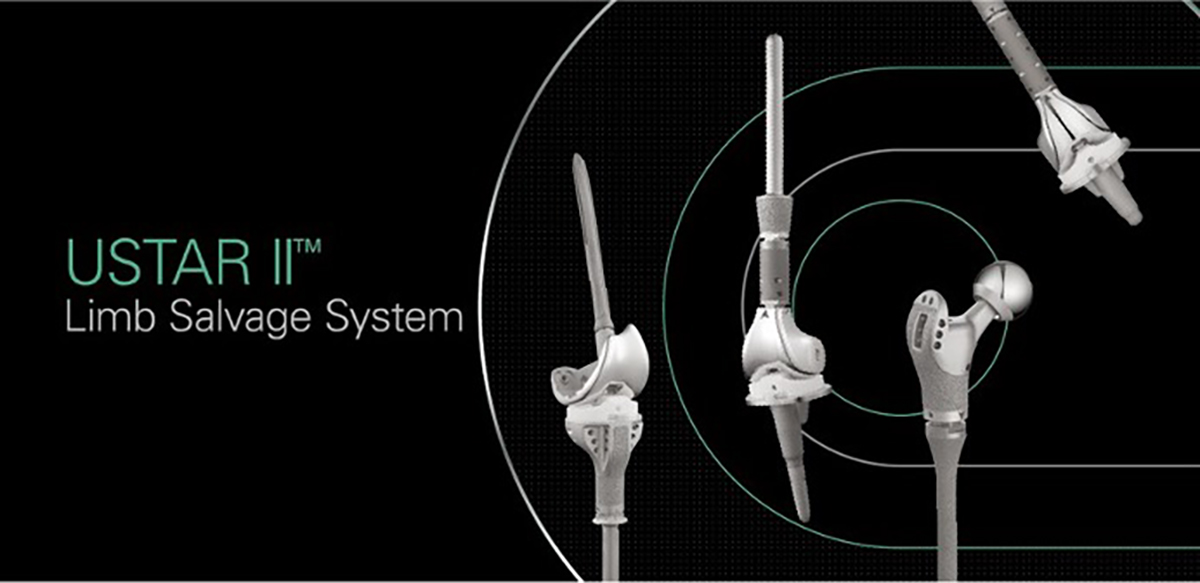 USTARII Hinge Knee & Limb Salvage System
For the latest developments on the full commercial launch of the USTARII Hinge Knee & Limb Salvage System, we invite you to listen to Chapter 1 from the recorded presentation of Early Experience with Next Generation Limb Salvage System, by Ron Hillock, MD.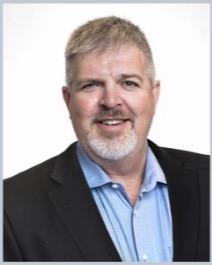 Dr. Hillock, Chief of Surgery at Centennial Hills Hospital and Medical Center, Las Vegas, NV, is a designer and early adopter of the USTARII system. This 1st of several chapters focusing on USTARII provides an overview of the history of limb salvage implant design including the first generation of United's USTAR system, as well as a discussion of the evolution of design concepts of and early clinical results with the system.
Future chapters will include an overview of United's 2nd generation system, USTARII, including early clinical results and some select case studies. Please check out chapter 1, it's a packed and interesting 5-minute listen.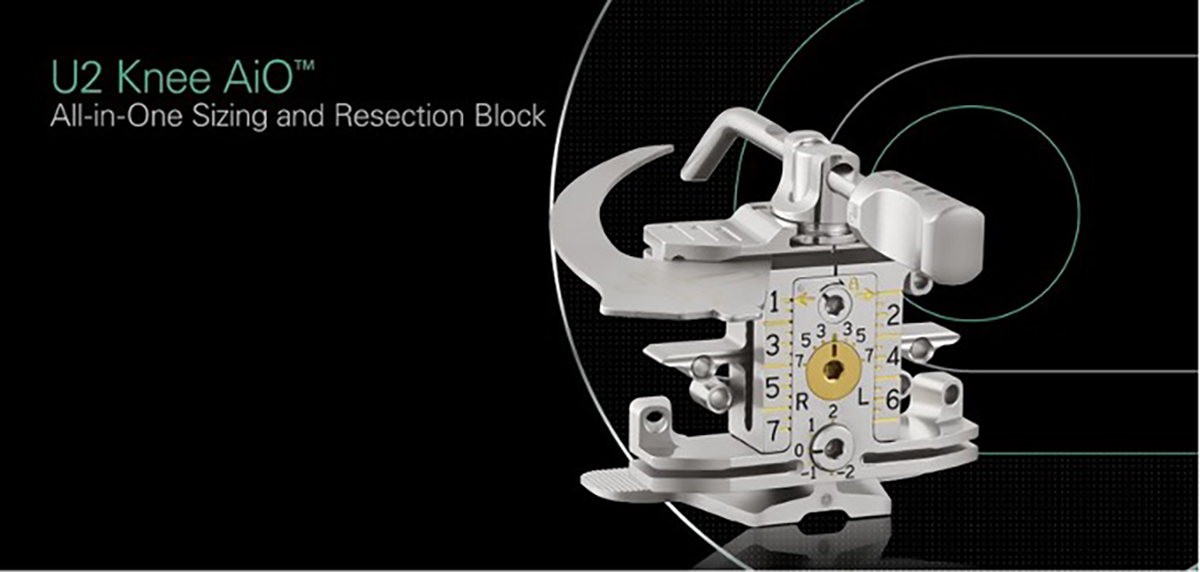 The U2 Knee System Meets ASC
It's no secret that more surgeons than ever before want to perform total joint replacement (TJR) procedures in outpatient settings instead of in hospitals. The forecasted number of outpatient TJR procedures is based on the shift from inpatient dominance to outpatient growth. More than one million TJR procedures are performed each year, and that number is expected to grow exponentially, reaching four million by 2030 (see "National Billing Services, nationalASCbilling.com, Info@nationalASCbilling.com"). A significant percentage of these cases will migrate from inpatient to outpatient settings. To ensure United Orthopedic Corporation continues to be one of the fastest-growing medical device companies in the United States, we have developed a strategic ASC pricing model for our innovative and award-winning U2 knee system – AIO (All-In-One) Femoral Block & MDT (Modular Disposable Trials).
AiO (All-In-One) Femoral Block
The U2 Knee System's AiO (All-in-One) femoral block enables surgeons to perform key femoral preparation
steps with a single instrument for a faster, more efficient, and precise surgical technique.
Supports both anterior and posterior referencing
Placed on the resected distal femur
Permits internal/external rotation adjustments from 3 to 7° in 1° increment.
Allows sizing of all 13 sizes of U2 femoral components
Ultra-fine anterior-posterior (A/P) adjustment can be made from -2 mm to +2 mm for allowing for optimal component positioning
Used for high-precision anterior and posterior femoral resections
Sets the position for the anterior and posterior chamfer resection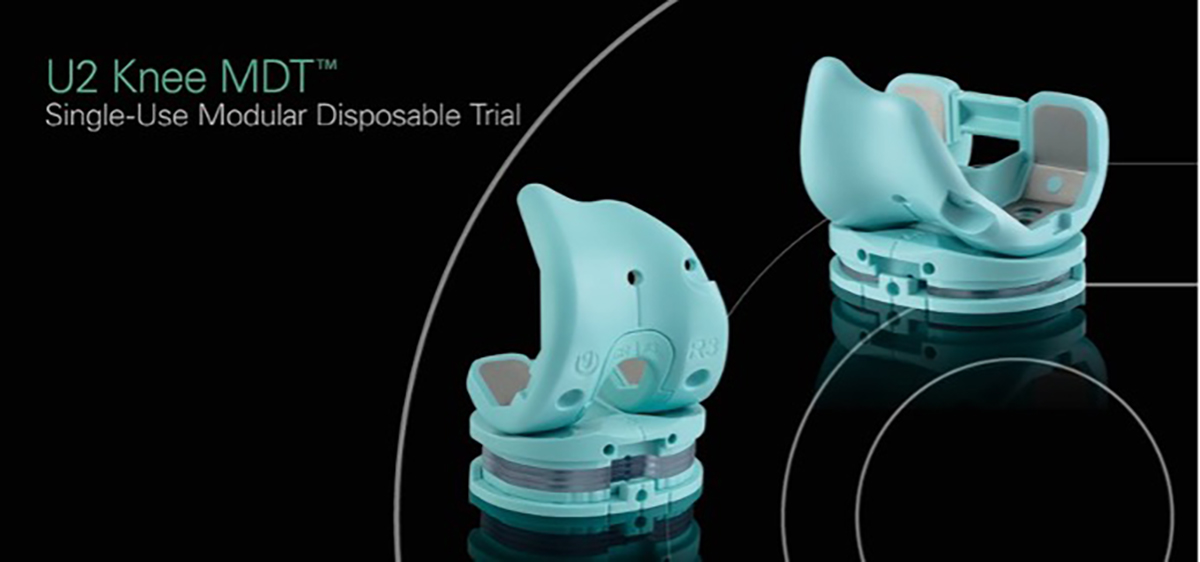 Modular Disposable Trials (MDT)
United's Femoral Trial Set (CR/PS) is comprised of 7 standard sizes plus 6 intermediate sizes, for a total of 13 femoral component selections. Each sterile package includes a CR notch trial & PS box trial to convert the femoral trial component from a CR to a PS design. A disposable PS Notch Cutting Guide is also included.

United's Tibial Trial Sets (CR/PS or UC) are comprised of 7 sizes of tibial baseplate trials and all thickness selections of inserts. Each sterile package includes the selected tibial baseplate trial, a standard 9 mm articulating surface trial, three 2 mm spacers, and one 3 mm spacer. An additional PS post trial that allows the CR insert trial to be converted to a PS insert trial is also included.

United's Patellar Trial Set Includes 7 size selections of onset or inset patellar trials.

If you have ASC conversion opportunities and/or questions regarding the ASC pricing model, AIO (All-In-One) Femoral Block, or MDT (Modular Disposable Trials), please contact your sales management team.

If you have a Conformity surgeon conversion opportunity, please contact John Kuras, Rich Szulewski, Rick Francis, or anyone from the United Orthopedic Team so that we can further assist you in bringing Conformity to your customers
Additional resources are also available to help you bring Conformity to your surgeon customers. Please take
advantage of our sales and clinical training, demo sets, marketing collateral, surgeon testimonials, and
surgeon referral and visitation site opportunities, in addition to our AAOS Conformity events being held from March 23rd to March 25th. These resources have proven to be highly effective in converting surgeons and
developing solid customer relationships.
Meet with Conformity Experts @ United Booth # 1267
USTARII Oncology Dinner @ Labriola Chicago
-Dr. Ron Hillock- Next Generation Limb Salvage System
Please have surgeons join us to learn how United's Conformity Hip System is changing patient outcomes, performing against competitors, and discussing the clinical experience with Conformity experts. United will be sending you event invitations in advance of AAOS!
** Due to limited spacing, invitations are limited to healthcare professionals and physician assistants. United will not be able to accommodate personal guests and spouses/significant others. All amounts spent on healthcare professionals attending this event will be reported to the CMS Open Payments Website as required by the Sunshine Act.
Meet with Conformity Experts @ United Booth # 1267
United Networking Event @ Hyatt Regency McCormick Place
Meet with Conformity Experts @ United Booth # 1267
To learn more about United's product, please check out our updated sales tools located on our website which will provide you with the latest information needed for your sales calls, account approvals, etc. In our newly updated website
https://us.unitedorthopedic.com/
we have incorporated a login functionality that allows you to access product brochures, surgical techniques, competitive comparisons, IFU's. 510k's, and other material designed to assist you in your sales efforts on behalf of United. All of this information can be downloaded to your phone/tablet/laptop as needed and emailed to surgeons and accounts.